Our guesthouse Nicole lies only 3 minutes from the center of Garmisch and is nevertheless quietly located. Hiking trails and ski areas are nearby. Parking is available in front of the house.
Comfortably furnished double- and triple rooms with stunning mountain view, full breakfast, bathroom (shower, toilet), balcony, cable TV (LCD) and WLAN connection welcome you in our owner-managed guesthouse.
Our Rooms & Services

Hikes
In Garmisch Partenkirchen you will find many ways that invite hiking and mountain tours.

Relaxation
A holiday in our guest house offers you the necessary relaxation to switch off from everyday life and stress.
Guesthouse Nicole - How to arrive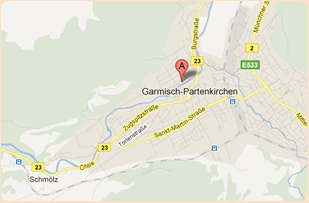 We look forward to seeing you in our beautiful guest house Nicole. How to find us.
Go to the map